When you think of destructive hurricanes, you rarely think of the Northeast. Even though that part of the U.S. doesn't see tropical systems as often as the Gulf Coast or the Southeast, we've seen a handful of memorable storms over the years.
Sandy (2012)
Superstorm Sandy, arguably the most memorable and recent significant storm to affect the Northeast. Sandy was a generational and benchmark storm for people in the Northeast when it made landfall.
Sandy originally formed on Oct. 22, 2012, in the Caribbean Sea as a tropical depression, and became a tropical storm later that day. It strengthened into a hurricane on Oct. 24, making its first landfall near Kingston, Jamaica.
After moving back over water in the Caribbean Sea, Sandy rapidly intensified into a Category 3 major hurricane before making its second landfall in Cuba.
Sandy fluctuated in intensity in the following days as it moved north into the western Atlantic, weaving through the Turks and Caicos and the Bahamas on the way.
Once over the western Atlantic, Sandy intensified again and nearly doubled in size, becoming the largest Atlantic hurricane on record with tropical storm force winds extending 1,150 miles across.
Sandy's path eventually led to the Northeast U.S., as it sped toward the coast and turned post-tropical just before making landfall in Brigantine, N.J. on Oct. 29.
Although Sandy lost its tropical characteristics just before landfall, it still packed max winds of 80 mph and brought catastrophic impacts along the Jersey Shore and the New York metro area, delivering devastating storm surge and significant flooding.
Rainfall totals from Sandy reached up to a foot across parts of Maryland and Delaware in just two days. The highest totals centered around the Delmarva Peninsula and just inland, with 8 to 12 inches of rainfall across the area.
Sandy made landfall during a full moon and high tide, which attributed to record storm surge levels. The hardest hit area was the Jersey Shore, along with the New York Harbor and Long Island, where inundation levels reached 3 to 9 feet above ground level.
Sandy ended up leading to 147 direct deaths, destroying at least 650,000 houses and left up to 8.5 million people without power during the storm and its aftermath, according to the National Weather Service. It remains one of the costliest hurricanes to hit the U.S., with up to $65 billion in damage.
Irene (2011)
Hurricane Irene was just over a year before Sandy. Irene was the first hurricane, and the first major hurricane of 2011, forming into a tropical storm on Aug. 21 near the Lesser Antilles.
Irene traveled west-northwest across the eastern Caribbean Islands, strengthening prior to landfall in Puerto Rico, becoming a hurricane shortly after moving back over water.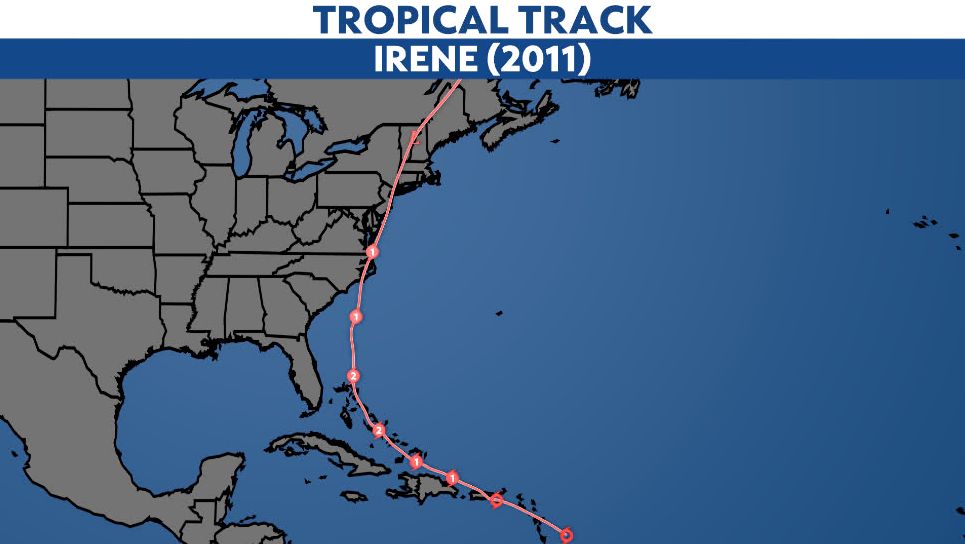 As it moved through warm waters in the southeastern Bahamas, Irene strengthened into a major hurricane. It continued north and gradually weakened to a Category 1, making landfall on the Outer Banks of N.C. near Cape Lookout on Aug. 27.
Irene's second U.S. landfall was in the same place that Sandy moved inland just a year later, in Brigantine, N.J. as a tropical storm. It's third, and final U.S. landfall, was also on Aug. 28, in Coney Island, N.Y.
Although Irene left a long trail of destruction across the U.S., it was most notable in the Northeast bringing catastrophic inland flooding in New Jersey, Massachusetts and Vermont.
Rainfall totals exceeded 6 inches for a large swath of the Northeast, with some of Irene's highest rainfall totals around New Jersey, New York and interior parts of New England. The heavy rainfall caused flash flooding and several record-breaking crests on rivers.
Irene produced a storm surge of 3 to 6 feet across parts of New Jersey and New York City, including Long Island, leading to extensive beach erosion.
Irene's damage ended up totaling to $13.5 billion, with 48 deaths directly caused by the storm, 40 of those in the U.S.
Bob (1991)
Hurricane Bob is another one of New England's costliest hurricanes on record. Unlike Irene and Sandy, Bob did most of its damage in New England.
Bob originally became a tropical depression on Aug. 16, 1991, a few hundred miles northeast of the Bahamas. 18 hours later, it became a tropical storm and was given the name Bob.
After becoming a hurricane, Bob moved up the East Coast of the U.S. It came within 35 miles of North Carolina passing by the Outer Banks. Bob remained a powerful storm as it moved toward the Northeast, eventually making its first landfall on Aug.19 near Newport, R.I. as a Category 2 storm.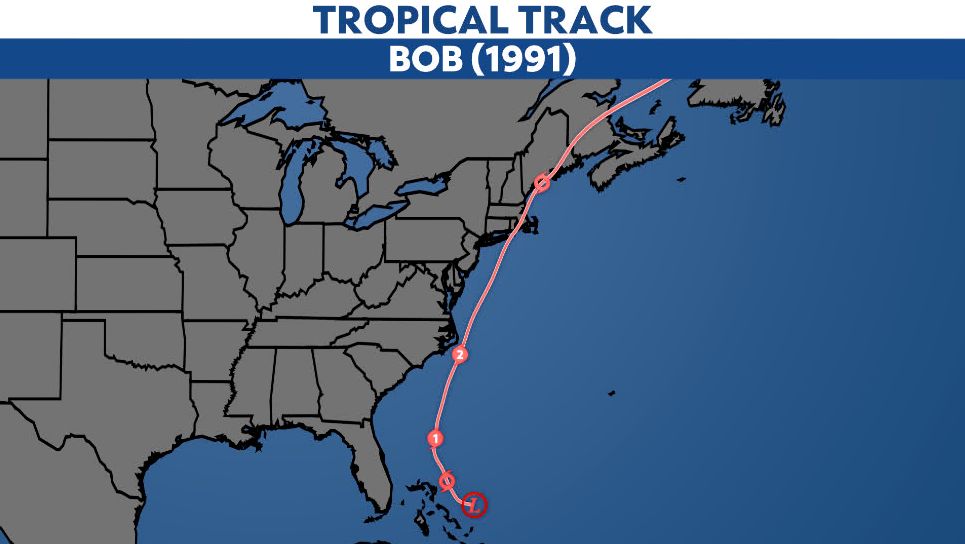 It quickly weakened over land, passing over Rhode Island and Massachusetts, before emerging back over water in the Gulf of Maine. Bob made its second and final landfall as a tropical storm near Rockland, Maine, the next day.
Bob brought destructive winds to the Northeast since it remained a Category 2 hurricane upon landfall. Massachusetts took the brunt of Bob, with peak winds gusts up to 125 mph on Cape Cod in the towns of Brewster and North Truro.
North Truro, Mass. also had sustained winds of 100 mph, the highest recorded from Bob.
Bob spurned up four tornadoes and produced a storm surge up to 12 to 15 feet in parts of Cape Cod. While these spots were hit with the strongest winds and highest surge, the highest rainfall totals were further west, up to 3 to 7 inches in western Rhode Island and eastern Connecticut.
Hurricane Bob caused 17 deaths in the U.S., with a damage estimate totaling up to $1.5 billion.
Gloria (1985)
Gloria was another storm that made landfall in the Northeast as a hurricane, breaking a 25 year drought at the time of landfalling hurricanes in the Northeast.
A tropical depression formed in the eastern Atlantic near Cape Verde on Sept. 16, becoming Tropical Storm Gloria the next day. Gloria had a long trek across the tropical Atlantic, fluctuating in intensity on its journey.
Eventually, Gloria picked up steam and strengthened in the western Atlantic as it passed to the east of the Caribbean. On Sept. 24, it became a major hurricane passing to the north of the Bahamas. The next day, it reached peak intensity as a Category 4 hurricane.
Gloria made its first landfall as a Category 2 hurricane on southern Hatteras Island in the Outer Banks, N.C. Hurricane Gloria weakened moving up the East Coast, making another landfall between JFK International Airport and Islip, N.Y. with max winds of 85 mph.
Gloria's third and final landfall was in western Connecticut, and the storm weakened as it moved inland across New England.
Rainfall totals climbed up to 7 inches across parts of the Mid-Atlantic and Northeast as Gloria came ashore. It also brought wind gusts of 115 mph in eastern Long Island, N.Y., where forecasters believe that damage in Long Island showed winds in the Category 3 range, despite only making landfall as a Category 1.
Storm surge levels peaked at Battery Park at the southern tip of Manhattan, where water was almost 7 feet above ground level. Thousands were left without power for over a week in parts of the Northeast and New England.
There were eight deaths attributed to Hurricane Gloria, with damage estimated to be near $900 million.
Carol and Edna (1954)
New England got hit hard in 1954. Carol and Edna were back-to-back hurricanes, both striking New England as major hurricanes.
Carol was the first of the one-two punch, forming near the Bahamas on Aug. 25. Carol moved north-northwest, gradually strengthening on its track up the East Coast. It made a close brush by the Outer Banks in North Carolina as a Category 2 storm, but didn't make landfall.
On Aug. 31, Carol intensified to a Category 3 major hurricane and made landfall on eastern Long Island with max winds of 115 mph. It made another landfall in Groton, Conn., destroying 90% of the homes around Groton from storm surge and winds.
Carol brought sustained winds of 80 to 100 mph across New England, devastating 40% of apple, corn, peach and tomato crops from eastern Connecticut to Cape Cod.
Carol took 60 lives and damages totaled up to $460 million, destroying over 4,000 homes, 3,500 cars and 3,000 boats. 
Edna formed as a tropical depression on Sept. 2, just days after Carol made landfall in the Northeast. Following a similar track, Edna moved up the East Coast after forming, becoming a hurricane on Sept. 7.
It became a major hurricane just a day later in the western Atlantic. Edna's track also passed right by the Outer Banks of North Carolina before making it to the Northeast.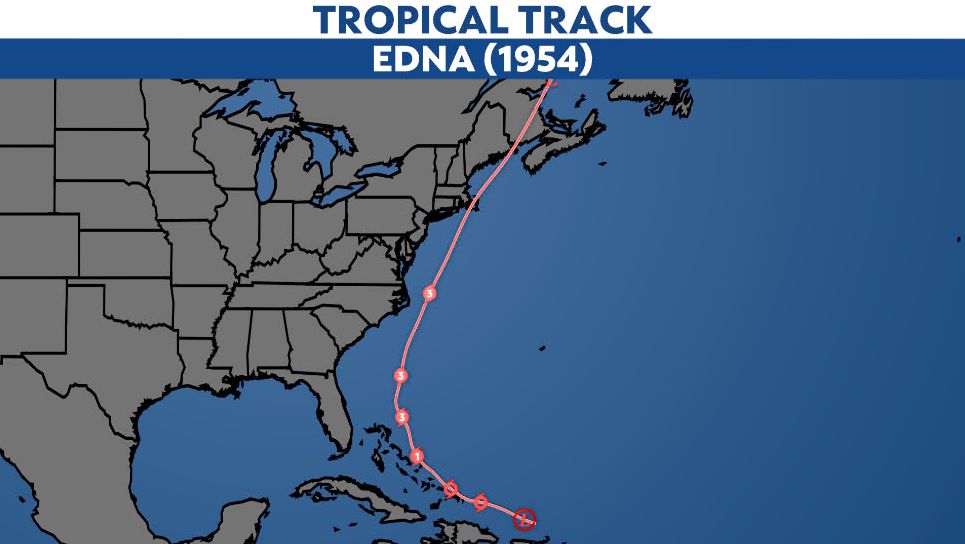 Edna eventually approached New England, passing right near the coast until its first landfall in Cape Cod as a Category 2 hurricane on Sept. 11. The storm stayed close to the coast as it moved north, continuing inland into Atlantic Canada.
Eastern Massachusetts saw winds of 80 to 100 mph as Edna passed by, with wind gusts up to 120 mph on Martha's Vineyard. Dangerous storm surge coupled with a rising tide led to water 6 feet above ground level around Cape Cod.
Edna cost $40 million and was responsible for 20 deaths. 
The Great Hurricane of 1938
The Great New England Hurricane, the "Long Island Express" or The Great Hurricane of 1938. It has many names, and was one of the deadliest and most destructive hurricanes in U.S. history.
It formed near the Cape Verde Islands around Sept. 9 in the eastern Atlantic and tracked west across the ocean. Since this was before satellites could observe hurricanes in the middle of the ocean, it went unnoticed for days after forming.
It passed to the north of Puerto Rico, likely as a Category 5 hurricane, and then turned north and moved parallel to the East Coast. It passed the Outer Banks in North Carolina about 100 to 150 miles offshore and approached the Northeast a day later.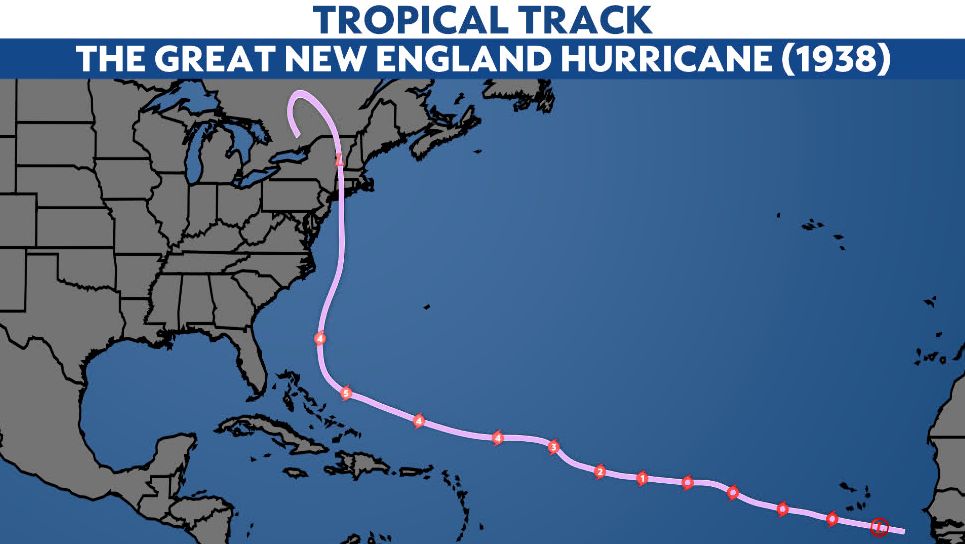 It made landfall on Long Island, N.Y. on Sept. 21, estimated to be a Category 3 hurricane at the time. It made another landfall hours later in southern Connecticut.
A weather station in Blue Hill Observatory, Mass. recorded 121 mph sustained winds and 183 mph gusts as the storm moved inland. Storm surge rose up to 10 to 12 feet from Long Island to southeastern Massachusetts.
As it was approaching the Northeast U.S., forecasters knew that there was a storm in the Atlantic, but had very few reports of its exact strength and location. It turned out that it was much stronger and larger than anyone had known.
Advisories and warnings were too late, coming in as the major hurricane was making landfall. It ended up killing over 500 people and damaging and destroying over 50,000 homes, costing more than $300 million.
Our team of meteorologists dive deep into the science of weather and break down timely weather data and information. To view more weather and climate stories, check out our weather blogs section.