The holiday season is upon us and millions of Americans are expected to take to the roads, skies and seas in the next several days.
But Mother Nature may cause havoc nationwide with a series of storm systems threatening to cause delays and travel headaches from coast to coast.
After a soggy week of weather in the sunshine state, our coastal low is pulling away from the region. This will deliver a shot of drier and sunnier weather as we head through the second half of our weekend and into the first part of our Thanksgiving week.
Thanksgiving week outlook
As one storm exits, another few begin. We're monitoring the chance for a few storm systems to develop across the Pacific Northwest and the Upper Midwest. Both storm systems will follow dips in a rather fast jet stream, forcing them east through the upcoming week.
Florida won't be directly in the path of either system, but as the week progresses, there is a signal for wetter, stormier conditions to move into the Deep South and the Sunshine State.
Early in our Thanksgiving week, the northern Pacific branch of our dual storm system will dive through the Rockies, causing a mess for those flying out west. If you plan on traveling toward Denver, Salt Lake City or the Four Corners region on Monday or Tuesday, check with your carriers as delays are likely.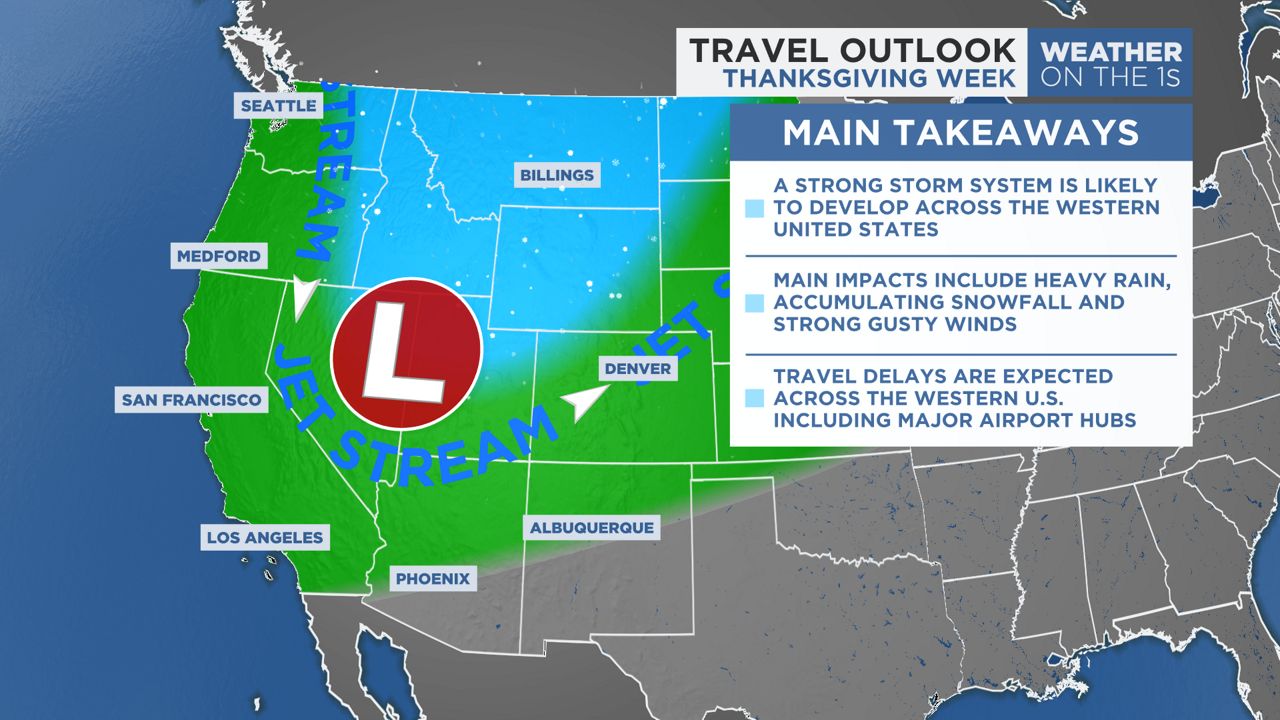 By midweek, that system will progress into the heart of the country. This could create a favorable area for a new low to develop. It's this system that may sweep deeper into the southeast, causing direct impacts to Florida as we near Thanksgiving.
If you plan to hit the roadways or skies anywhere from Dallas to Atlanta, or along the Gulf Coast from Florida to Texas, expect some soggy and potentially stormy conditions Wednesday and Thursday. I-4, I-75 and I-95 could all get a good dousing of rain from Tuesday night through Thanksgiving morning.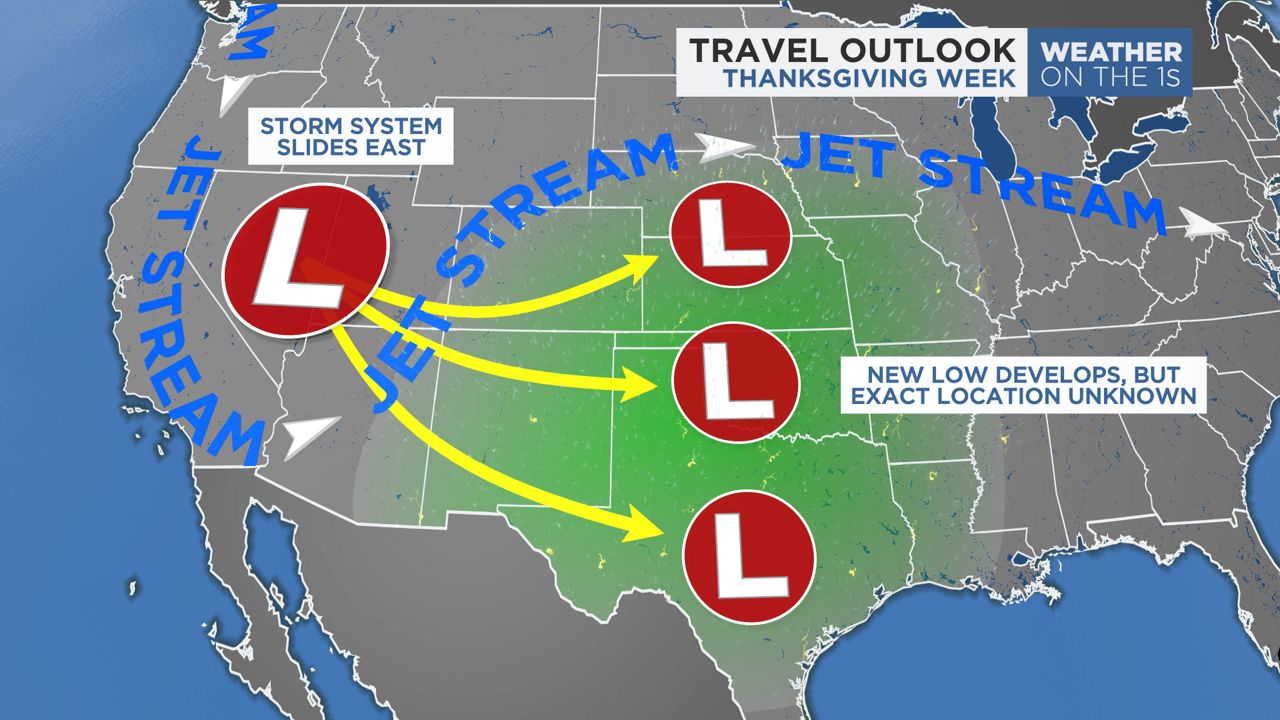 There are some signs that point to this storm system, potentially favoring a small corridor of severe weather too. Right now, it's too early to discuss how strong storms could get and where they would be favored but keep that in mind as it could cause a mess for both drivers and fliers alike.
Meanwhile, another low diving out of the upper Midwest on Tuesday night will swing through the Great Lakes region on our Wednesday before rushing toward the northeast on Thanksgiving Day.
This storm system will only complicate travel for those heading toward Chicago, New York or Boston. Expect some major delays at the airport midweek for anyone trying to get to those cities.
This Thanksgiving likely to be the third busiest ever
While the weather could cause headaches for millions, it's not likely to keep anyone from traveling. According to a recent AAA report, this Thanksgiving is expected to be the third highest traveled since AAA started tracking travelers in 2000.
"For many Americans, Thanksgiving and travel go hand in hand, and this holiday, we expect more people on the roads, skies and seas compared to 2022," said Paula Twidale, Senior Vice President of AAA Travel. "Travel demand has been strong all year, and AAA's Thanksgiving forecast reflects that continued desire to get away and spend time with loved ones."
Florida is expected to be the most traveled to destination in the country, with four of the top five domestic destinations located here in the Sunshine State.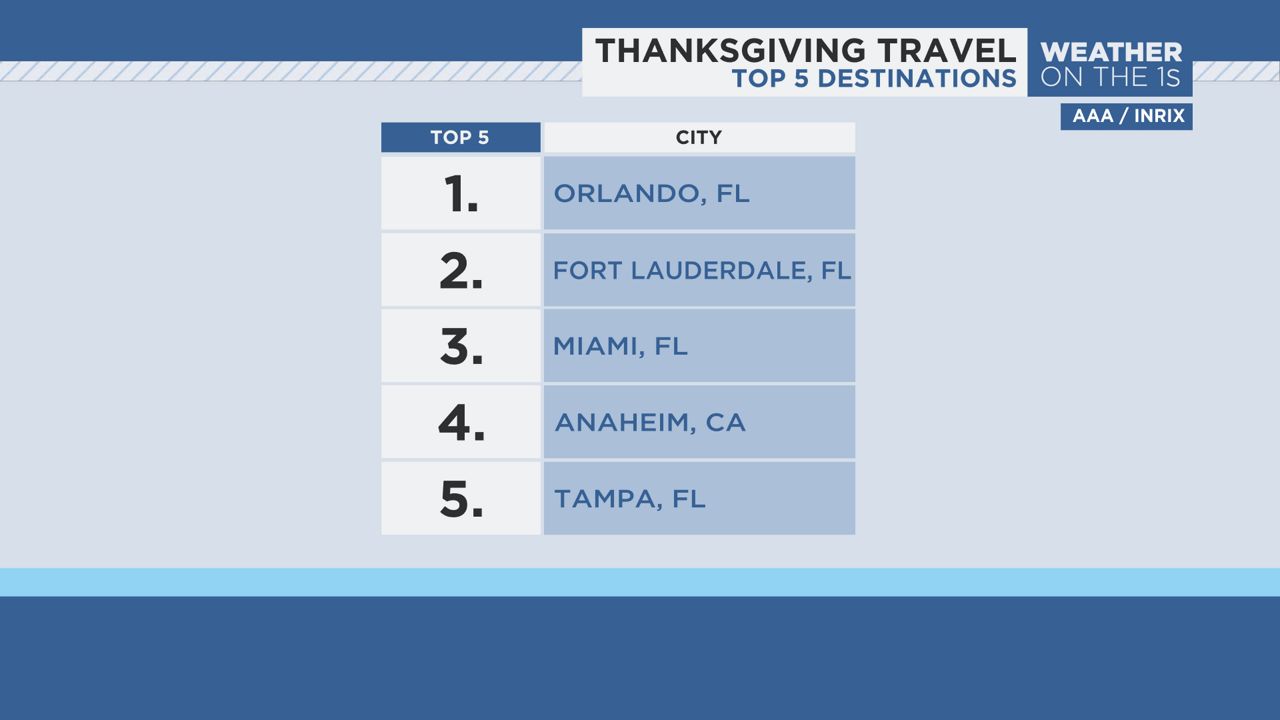 Just over 49 million Americans are projected to hit the roads, an increase of 1.7% from last year. AAA also expected an increase in those travelers flying by 6.6% from 2022, marking the highest number of air travelers for Thanksgiving since 2005.
Tuesday and Wednesday are considered the busiest days for travelers taking to the skies, while Sunday will be the busiest day for travelers returning home.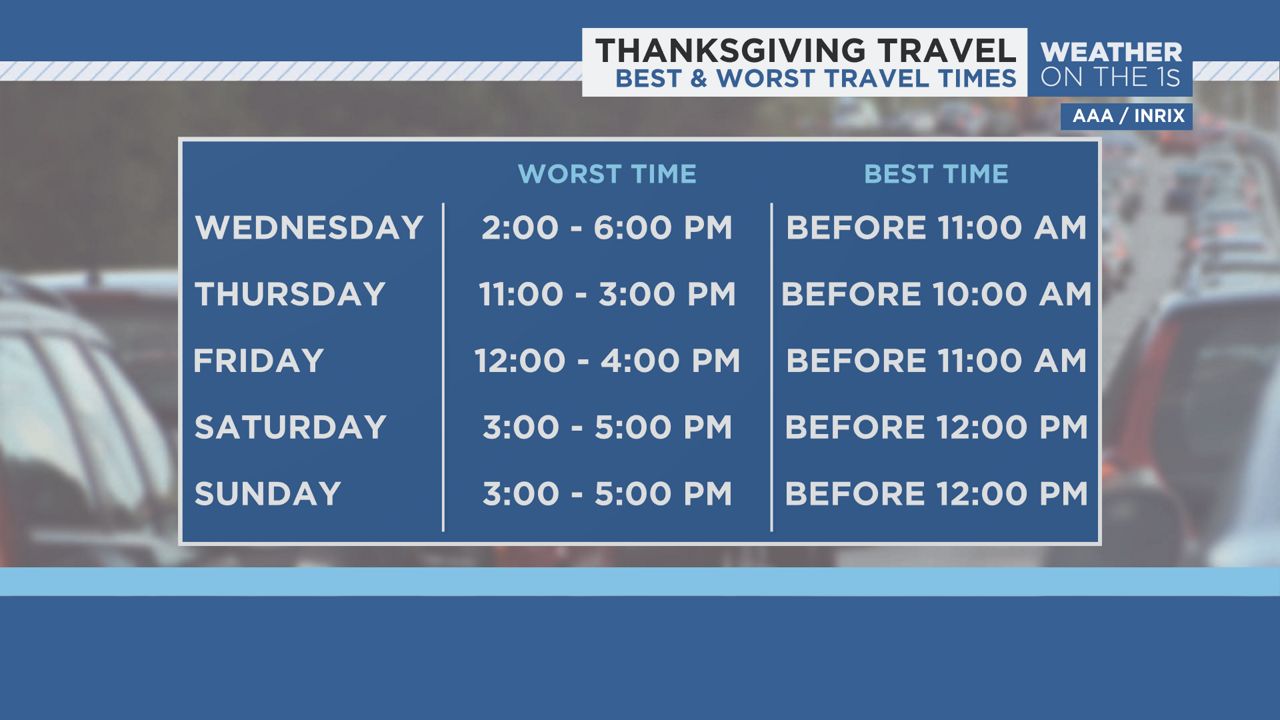 If you plan on hitting the roadways this year, keep abreast of the best and worst times to leave. According to INRIX, a traffic and transportation insights provider, the busiest day to drive will be on Wednesday between the hours of 2 p.m. and 6 p.m. 11% more drivers are expected to be on the roadway at that time, compared to last year.
If you're taking Interstate 4 between Tampa and Orlando, look out for Thanksgiving morning just after 8 a.m. as it's expected to be the peak congestion period of the week.
Our team of meteorologists dives deep into the science of weather and breaks down timely weather data and information. To view more weather and climate stories, check out our weather blogs section.