From frost to freezing temperatures, we've had our fair share of nights and mornings in the 30s and 40s this January and February.
While it was colder than normal at many times, we had more days with temperatures below 40 degrees last winter.
So now that February is nearing an end, you may be wondering if we are finished with temperatures in the 30s.
We passed the coolest part of the year in mid-January. Even though that was a month ago, the coldest temperatures of this winter did not move in until the end of January and February.
This goes to show that averages are just that, averages.
Climatologically though, the chance of dipping into the 30s will be tougher going forward.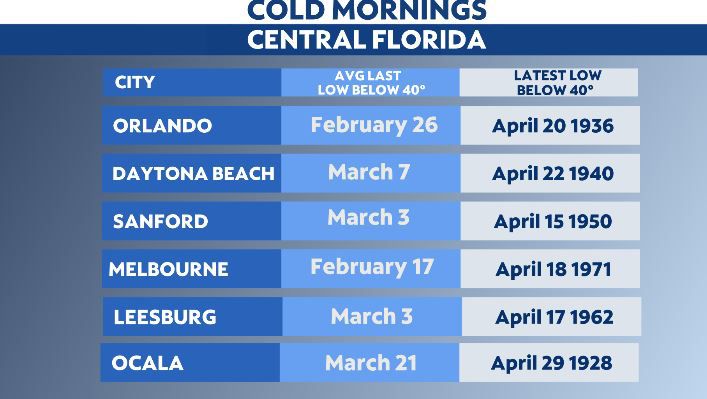 On average, most of Central Florida experiences its last morning below 40 degrees in late February into early March.
There have been years where the last temperature in the 30s did not come until mid-to-late April. So we could still feel the chill even into the spring months.
Recent climatological temperature outlooks and the forecast models have suggested a warmer than normal finish to February.
But it's too early to say for certain whether that warmth sticks around into March.
Bottom line, you will probably use that heavier jacket and the heat far less from now on now that we are nearing the end of meteorological winter.