In 1953, the United States began using a list of names to name tropical systems in the Atlantic and Pacific Basins.
By 1954, three storm names were retired for Atlantic Basin storms. The idea of retiring a storm name is based on a storm's destruction.
According to the World Meteorological Organization, a storm's name is retired "if a storm is so deadly or costly that the future use of its name on a different storm would be inappropriate for reasons of sensitivity."
The vast majority of retired storm names were hurricanes. Many were major hurricanes. But a storm's overall strength doesn't necessarily determine if the name will be retired. Sometimes, it's a weaker storm that can cause a lot of problems.
Whereas a category 1 hurricane doesn't bring the stronger winds of a major hurricane, a category 3, 4 or 5, it can still bring a lot of destruction. A slow-moving category 1 storm can drop significant amounts of rain and cause major flooding and loss of life.
Hurricane Florence is a good example of this type of storm. A category 1 hurricane at landfall, it slowed and stalled over the Carolinas for days. Dropping "feet" of rain along its path.
Since 1954, 96 tropical system names have been retired for storms that developed in the Atlantic Basin. Of those 96, all at one point were classified as hurricanes, except two. Those two storms were "only" tropical storms, but the damage they led to their names being retired by the World Meteorological Organization.
Tropical Storm Allison
In early June 2001, Tropical Storm Allison formed in the Gulf of Mexico. The storm made landfall in Texas on June 5. Allison's highest winds were 60 mph.
Even at landfall, because of the weak system, there was minimal beach erosion. However, the danger with Allison did not lie with its strength, but with its movement.
Like Hurricane Florence in 2018, Tropical Storm Allison was a slow-moving system. It lingered over Texas for days, producing significant rains over a large area.
One to over three feet of rain was reported along the storm's path over a six-day period. A location in Jefferson County, Texas, received 40 inches of rain.
Of course, all this rain caused significant flooding across the areas of Texas along the path of the tropical system. Even though Allison weakened to a tropical depression during this time, it still continued to drop large amounts of rain.
After six days, the system finally made its way northeast, pushing off the northeast coast of the United States and dissipating in the North Atlantic on June 20.
In the end, the storm caused over $9 billion in damage and took 41 lives.
In 2002, the World Meteorological Organization retired the name "Allison" from future storm use because of the severe damage and deaths caused by the storm.
This was the first time a storm, which had "only" been a tropical storm, had its name retired.
Tropical Storm Erika
14 years after Allison, the next, and only other tropical storm from the Atlantic Basin to have its name retired, developed east of the Leeward Islands.
Tropical Storm Erika never had sustained winds greater than 50 mph, but the storm brought significant rains to the islands along its path. The hardest hit area was Dominica.
Even though Erika was a "weak" system, the atmospheric setup over Dominica, along with the mountainous terrain, led to high rainfall totals.
During the storm, rainfall rates were up to 3.5 inches per hour over the entire island. Some locations recorded rainfall rates of 8 and 11 inches of rain per hour. Over eight inches of rain was recorded, as an average, across Dominica over two days.
Other locations saw 12 to 33 inches of rain during the storm. With grounds already saturated from rains before Erika, most of the rain ended up as runoff.
All this rain triggered major flooding across Dominica along with mudslides.
Almost 25% of the island's population was severely impacted by the storm. 30 deaths were reported because of the storm and it caused over half a billion dollars' worth of damage. Over $480 million worth of damage occurred in Dominica alone.
Because of the impacts of Tropical Storm Erika on Dominica, the name "Erika" was retired by the World Meteorological Organization in the spring of 2016.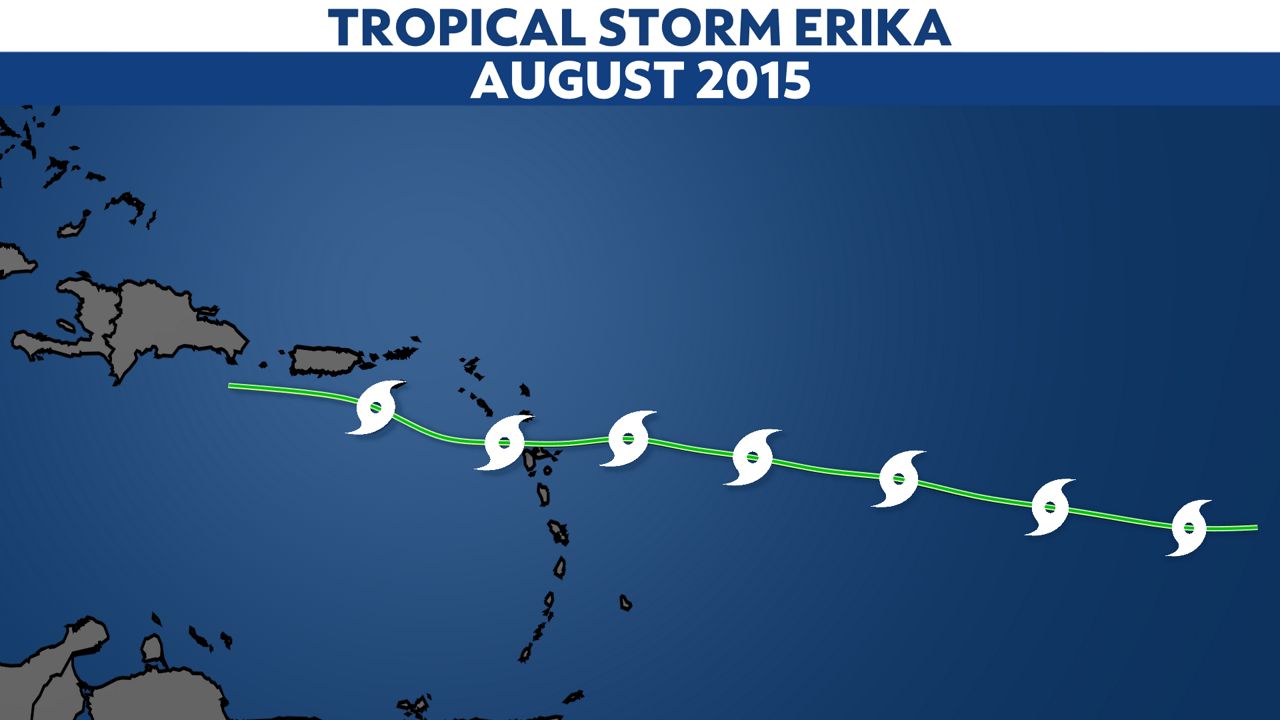 Take all tropical systems seriously
So the one thing to always remember about a tropical system is that the overall strength of the system doesn't necessarily tell the damage potential of the storm.
Never look at an approaching storm and think, "it's only a tropical storm," or "it's only a category 1 hurricane."
A tropical system brings a lot of damage potential, be it wind, water, waves, storm surge, tornadoes or all of the above.
The best advice, take any storm seriously and plan for any dangers it could bring to your area.
Our team of meteorologists dives deep into the science of weather and breaks down timely weather data and information. To view more weather and climate stories, check out our weather blogs section.