It has been a very active 2021 Atlantic hurricane season, and Florida has escaped the worst weather. 
The season has already featured 15 named storms, including the newest system in the Atlantic, Odette. So far this year, the United States has taken the brunt of landfalls this season.
A remarkable eight named storms have made landfall in the United States, stretching from southern New England to the south Texas coast.
Florida has experienced three landfalling systems, but all three were tropical storms at landfall, and all three were relatively weak systems.
Elsa was the strongest system to directly impact Florida. The system briefly was a hurricane in the Gulf near Tampa before weakening and making landfall in the Big Bend area in early July.
Fred occurred right after Elsa in early August. The system remained a tropical storm and made landfall in the Florida panhandle.
The newest storm to impact the state was Mindy. The storm developed quickly in early September and made landfall as a weak tropical storm near Apalachicola.
Considering Florida is the most susceptible of all U.S. states to tropical weather, the season has been relatively quiet.
But, things can change.
Tropical storms and hurricanes have hit the sunshine state in October, some of them major hurricanes.
Ten major hurricanes have struck Florida in recorded history in October. Five of them occurred in the last 80 years.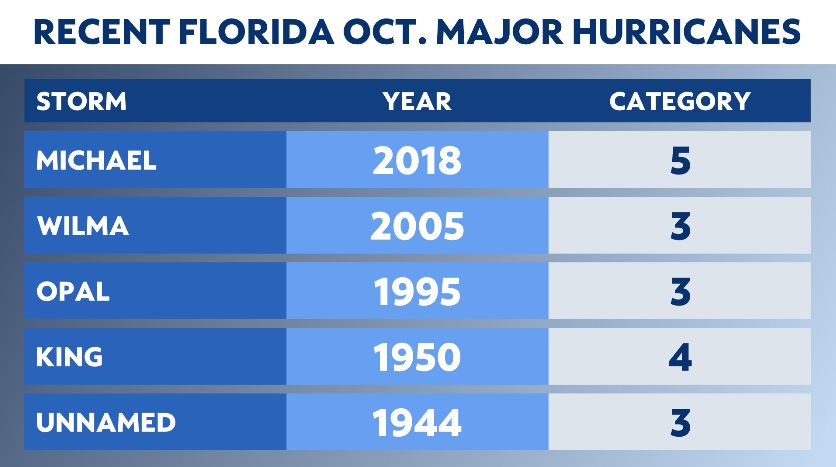 The most recent major hurricane was Michael, slamming ashore as a Category 5 hurricane in the Florida panhandle.
Many may also remember Hurricane Wilma hitting southwest Florida in 2005 and Hurricane Opal impacting the western panhandle in 1995.
So, while the hurricane season has been relatively calm in Florida, that doesn't mean it's over.
That's why it remains important to stay aware of the latest forecasts and keep your hurricane kit stocked and ready to go.
Hurricane season in the Atlantic runs until November 30.