Florida is known for its balmy winter weather, but this season has been even warmer and drier than usual. 
Friday marked the halfway point of meteorological winter, and the results so far for Florida have been warm and dry.
Since Dec. 1, the Orlando International Airport has recorded 41 days of above-average temperatures and just two days with highs below average.
The warmest high so far this season was 86 on Dec. 19. The coolest high was 66, which occurred on Dec. 22.
It has also been very dry the last several weeks. Since Dec. 1, Orlando has only recorded 2.08 inches of rainfall, with the vast majority of that occurring in mid-December.
So far in January, Orlando has recorded just 0.01 inches of rainfall, well below average.
Despite the very warm and dry start to winter, there are some changes on the horizon.
A pattern shift will develop this weekend over the eastern United States. The jet stream will finally buckle southward toward the region, opening a path for cooler air to move into the sunshine state.
This will result in average and below-average temperatures for next week and likely for the remainder of January.
The latest 8-14 day outlook from the Climate Prediction Center shows colder than average temperatures across Florida.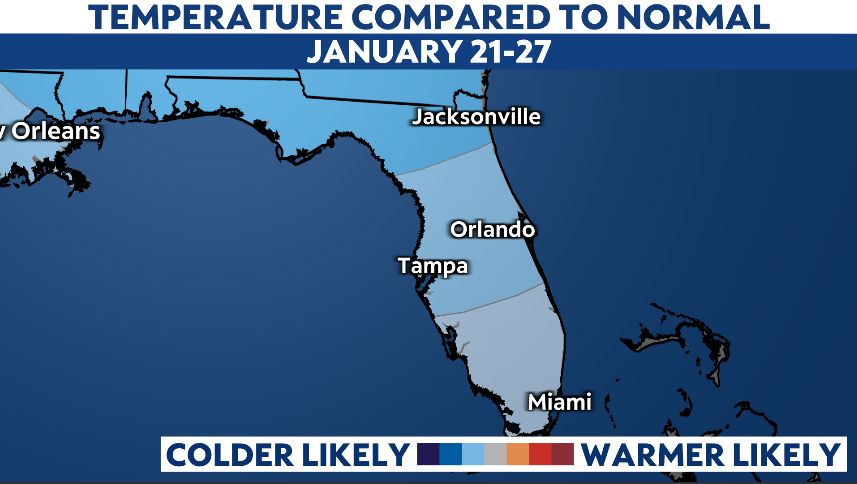 But the cool spell will likely be short-lived.
We remain in a La Niña weather pattern, which often lifts the jet stream north and away from Florida.
The warmer-than-average temperatures will return for February.
In fact, the long-range outlook from the Climate Prediction Center has above-average temperatures for all of January, February and March. This indicates a likely swing back to warmer conditions.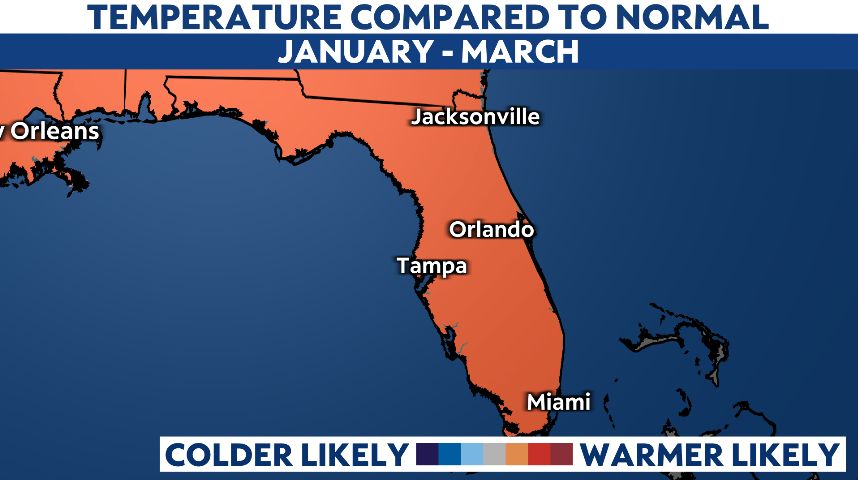 So while a change is imminent in our warm weather, it looks to be more of a pause than a true change in the pattern.