The list of tropical Atlantic names for the 2022 Hurricane Season is the same list that was used in 2016, except for the "O" and "M" names. Both Otto and Matthew were retired from the list, due to the storms being so destructive.
Martin and Owen will replace them for the 2022 season.
Hermine, however, is back! Hermine may not have earned retirement status, but it was an interesting storm that affected the Big Bend region of Florida. 
Hermine, in 2016, was the first hurricane to make landfall along the Apalachee Bay Coast since 1966. It was also the first hurricane to strike the state of Florida in 10 years.
Don't worry about hurricanes in Tallahassee, they said…
My family and I moved to Tallahassee, Florida in June 2016. Our first weekend there greeted us with Tropical Storm Colin, a weak storm that dumped some rain on the region. 
Locals explained to us that tropical storms, or remnants of storms, were common along the Big Bend, but hurricanes? A hurricane had not made landfall near Tallahassee, FL since Hurricane Kate in 1985. 
They assured us hurricanes were something we didn't have to worry about here. 
Lack of tropical activity
According to Florida State University's Emergency Management, the years preceding Hermine saw several Tropical Storms and remnants from storms. Yet, most of the storms had wind gusts lower than 40 mph and were mainly rain and flooding events.
With this in mind, the trees in the capital city had not been "tested" in over 30 years, meaning a lot of those old branches and weak trunks were sitting there waiting and a prolonged wind event, well that could prove problematic for the region and that's exactly what happened. 
2016
2016 was the first year the National Hurricane Center used the nomenclature Potential Tropical Cyclone. 
It gave this classification to disturbances the National Hurricane Center (NHC) deemed a threat to bring tropical storm or hurricane conditions to land areas within 48 hours. However, was not quite a tropical cyclone yet.  
Evolution of Hermine
Hermine initially tracked as a tropical wave off the coast of Africa. The NHC kept a close eye on it as it traversed the Atlantic. Early models had it making landfall on the east coast of Florida, but eventually it moved further west into the Florida Straits.
NHC classified it as a tropical depression on Aug. 28, 2016. However, it struggled to strengthen because of an abundance of wind shear over the Gulf of Mexico. It turned north and overcame this shear. 
Hermine then intensified quickly,strengthening from a tropical storm Aug. 31 to a category 1 hurricane on Sept. 1. It had a pressure drop of 12 millibars over a 24-hour time-span, with winds peaking at 80 mph. 
Hermine tracked north northeast and made landfall during the early morning of Sept. 2 at 1:30 am EDT. Landfall was just east of St. Marks, Florida, near the Wakulla-Jefferson County line, about 30 miles from Tallahassee. 
As it moved on shore, it quickly weakened to a tropical storm. Florida State University's Emergency Management measured sustained winds of 47 mph with gusts exceeding 64 mph on campus. 
Impact on Big Bend of Florida
Those weak trees and branches I mentioned earlier… there were trees down all over the university, causing campus-wide power outages for 64 hours. Tallahassee City and Leon County had 80% of residents without power for up to one week. 
Rainfall totals were around 5.5 inches. Citrus and Pasco Counties, on the western coast of Florida, had major flood damage because of higher tides and storm surge.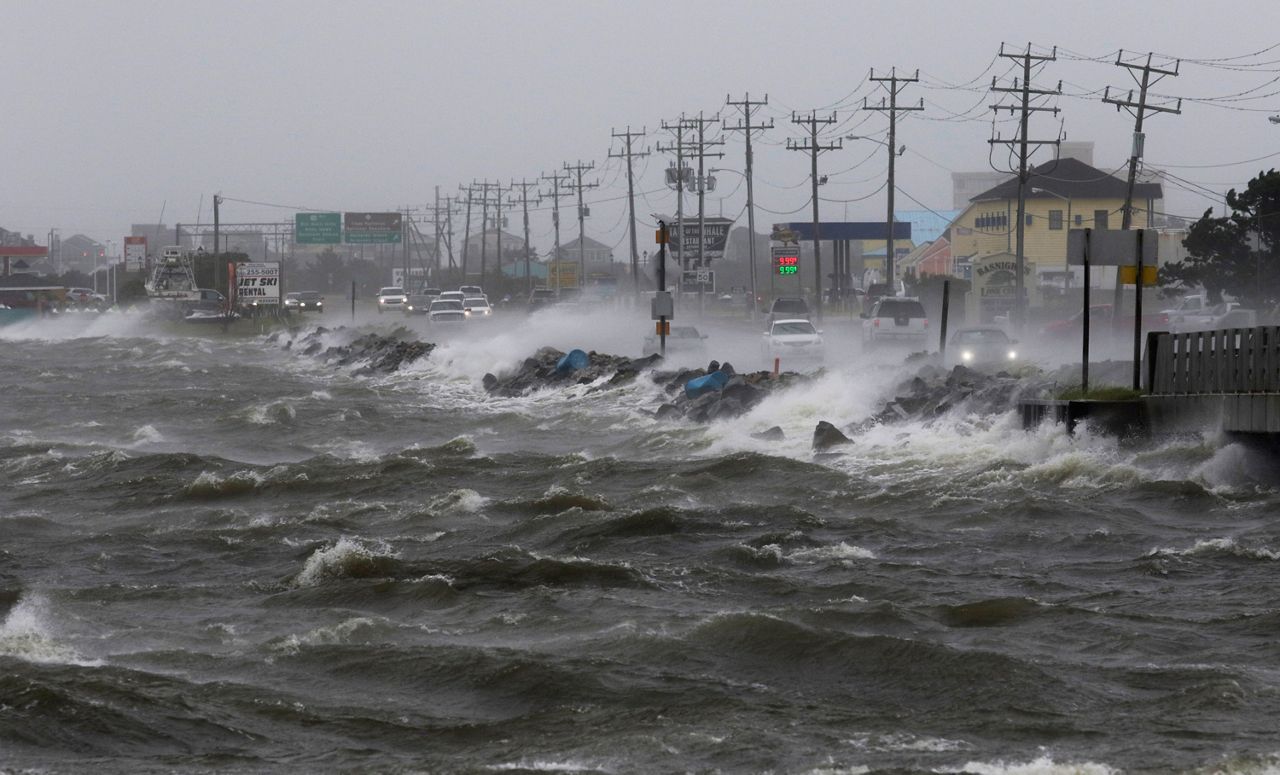 Flooding and fairly strong winds in other states such as Georgia, South Carolina, and North Carolina caused additional damage, but to a lesser extent.
Personal account
Our family made it through the storm by taking shelter at my husband's work, a newly constructed concrete building. We left his work during the afternoon on Sept. 2, and found our rental house littered with tree branch debris, but luckily no sustained damage,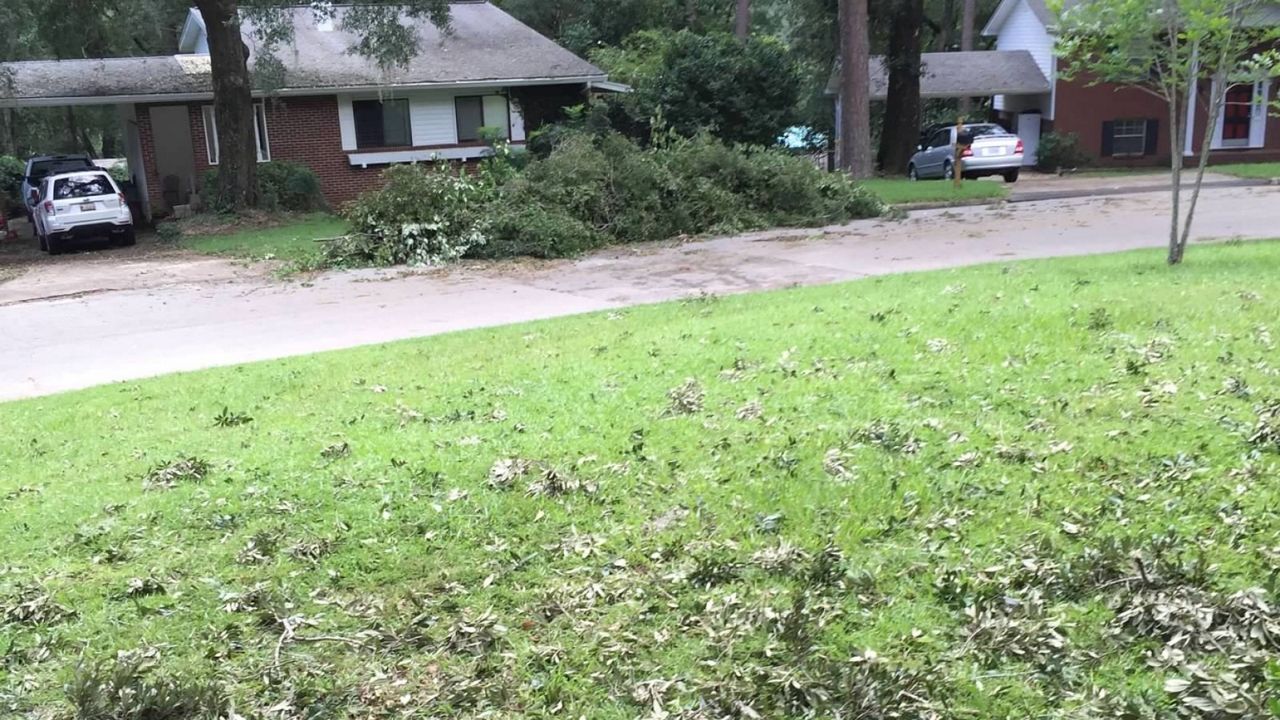 The power was out and we could not confirm a date for power restoration. Rather than stay in the Florida heat without air conditioning, we left the area and drove north to Virginia to stay with family for a week.   
Tallahassee hurricane statistics
According to FSU's department of Emergency Management statistics, hurricanes affect the area once every eight years with tropical storms occurring more frequently, once every 3.5 years.
Hurricane Irma threatened the entire state of Florida in 2017, only to make landfall near Marco Island, Florida, minimally affecting Tallahassee.
2018's Hurricane Michael was a different story, with the University recording sustained winds of 44 mph and gusts of 71 mph. Any trees or branches that hadn't fallen two years prior, with Hermine, fell during this storm.
90% of the city and surrounding county remained without power for up to a week, proving the Capital City is susceptible to tropical systems.