As millions prepare for the Christmas holiday weekend, we are tracking a winter storm that will disrupt travel plans from the Plains to the Midwest to the Eastern Seaboard.
Plus, the storm will send temperatures plunging, providing a white but very cold Christmas to several areas across the nation.
Many will deal with rain, snow and wind, not to mention some frigid temperatures. The details of the forecast aren't solid just yet, but the general themes are pretty established. Confidence in the specifics will increase toward midweek.
Biting December chill
An arctic air mass will send subzero temperatures and blistering wind chills for the Plains and some parts of the Midwest, and we could see lows colder than 20 degrees reach all the way to the Gulf coast. For many, this cold will reach dangerous levels because of short frostbite times or because people simply aren't used to it.
Bitterly cold air is already spilling into the Northern Rockies and will bulldoze its way south and east in the coming days. Some will see highs drop by more than 30 degrees from one day to the next.
Temperatures on Friday will be more than 30 degrees below normal in a huge swath from the Canadian border to the Gulf of Mexico.
Cold temperatures will remain widespread on Christmas Day, slowly moderating thereafter.
A wintry mess
While it's hard to nail down the exact timing and details, this nasty system will snarl travel, both on the road and in the air.
The latest data seems to suggest it will produce everything from heavy rain and snow, as well as powerful winds and even the potential for thunderstorms.
Snow develops on Wednesday across Rockies and Northern Plains ahead of the arctic cold front.
That snow will carry over into the Midwest, Great Lakes and Ohio Valley through Friday. Blizzard conditions aren't out of the question in parts of the Upper Midwest as wind gusts crank up well over 40 mph.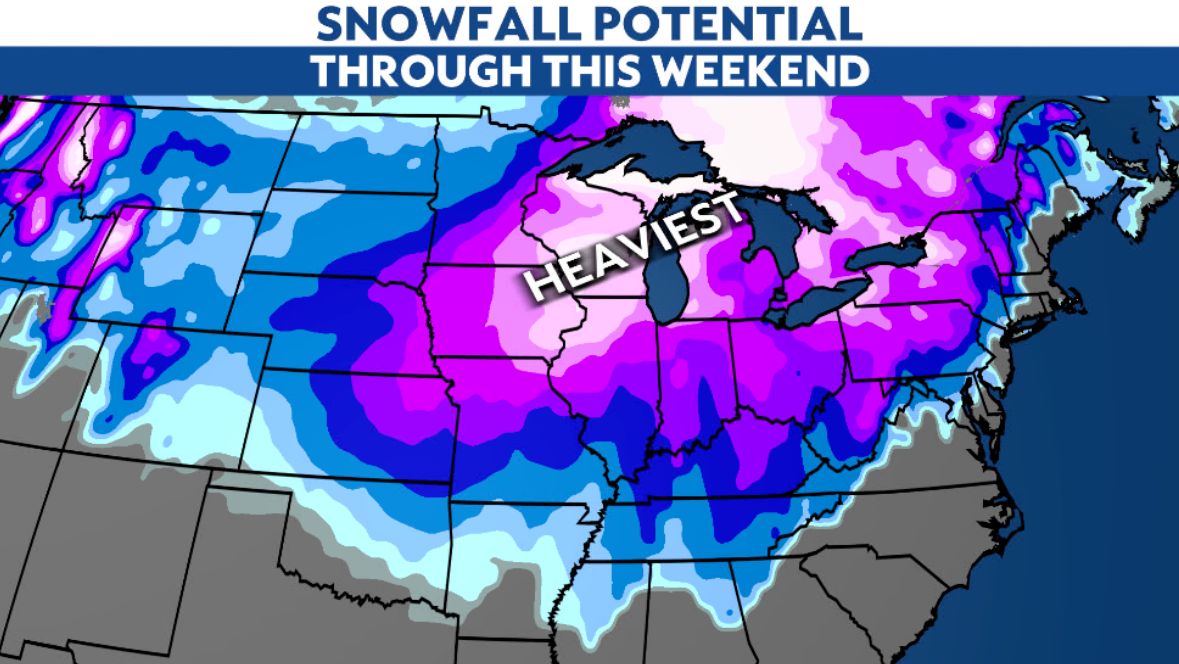 O'Hare is one major hub that could get hit by heavy snow and strong winds on Friday, sending travel issues cascading across the country.
Plus, that same cold front will produce rain–possibly heavy–from the Southeast all the way up to New England later this week.
Regardless of where or what it brings, this system likely brings significant travel trouble in the days leading into the Christmas weekend. Check in on your local forecast often to stay aware of what you can expect, and turn on weather notifications to be alerted to significant weather.